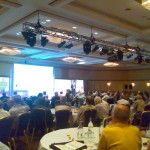 Last week I went along to the food co-ops networking event at the Southville Centre in Bristol. It was a useful event and very inspiring and informative to meet people from so many other co-ops, as well as attend some useful workshops: the two I went to were Good meetings and communication and Starting and developing a food co-op, while there were also ones on funding and Simply Legal available.
There was some time for networking, as well as a relaxed end to the day which let me catch up with a few more people. I would have preferred a little more time for the workshops and a little less on case studies (every food co-op is different and I don't think any of the featured ones were quite what I was looking for), but that's a very minor thing and didn't really reduce the usefulness of the whole day.
Our co-op is a tech worker co-op and not a food co-op, so I didn't know that much about how to start one before the event. Now I've got a much better idea of what I need to do when I eventually move back out to what may be a co-op desert in King's Lynn.
Are you a member of a food co-op or buying group? If so, what would you say about it? Were you involved in its start-up?