So after Royal Mail shut down useful community websites causing MP comments on the idiocy of Royal Mail, I was rather surprised to get this little thing in the post today: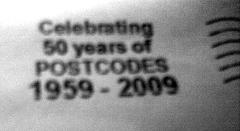 That's a postmark advert for "Celebrating 50 years of POSTCODES 1959-2009". So this is what Royal Mail does with some of the money it makes from its claimed monopoly on postcode databases: it spends it on ink to celebrate postcodes in the bit where they can't sell adverts.
After the postcode-takedown, I suggested deleting postcodes from all our co-op's websites. Instead, another member has persuaded me to contribute to something like free the postcode, which I first saw on CycleStreets blog.
As well as slapping its customers, Royal Mail is also currently taking on its workers who are campaigning for sustainable jobs and against the recent increase in bullying and harassment cases. I already send most of my letters, invoices and so on electronically since our three nearest post offices closed last year.
I've noticed Edinburgh Bicycle Co-op switching to DPD and Terry Lane suggesting more online use. Are those good approaches? How are you adapting to the postal delays? Have you put your postcode into free the postcode or a similar site?