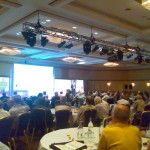 It's Co-operatives Fortnight until 9 July and our co-op is supporting many events:
As you may know, we've already done two events:
First, last Friday, Michael attended the Co-operatives UK Annual Meeting on our behalf. Co-operatives UK is our national co-ordinating co-op and the figurehead for the movement in this country. I didn't see the meeting (the live video link didn't work for me, as before), but Michael reports:
"The AGM seemed well organized; it was good to hear about the work they're doing and the concerns regarding the co-operative situation in Poland. I think it's important to exercise one's ability to vote, but would have liked more opportunity to speak with people."
We couldn't send anyone to the Mary Portas session on Friday evening, but Paul Dale Smith summarised the session and RuthRosselson described it as "Mary Portas tells Co-op Congress how it is".
Then on Saturday, I was in Manchester for The Power of Co-operation, thanks to support from software.coop and The Co-operative Bank.
The first session I attended, on mutualisting the Post Office was interesting and pretty full, but I found some later sessions rather frustrating. As well as my usual concerns about surrendering to uncritical use of private-sector software, I got quite annoyed by two sessions on member engagement where the presenters seemed to talk for almost the full time without letting the audience engage! Not good for my blood pressure, that, especially when I feel they're missing something!
But the real value of the day was in the fascinating discussions I had with many people in the short breaks in the plenary, or while wandering around the exhibition and the marketplace. For example, it was great to see Revolver still selling the T-shirts I mentioned here in 2009 – as well as giving out free samples of their brilliant fairtrade coffee. What comes from the various discussions will probably decide whether we attend similar events in future.
Were you in Birmingham? How was it for you? Are you supporting Co-operatives Fortnight? How, where, when and why?