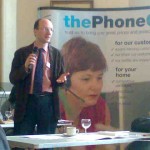 Ed Mayo talking to the Phone Co-op meeting
Yesterday I had the pleasure to be at the Phone Co-ops annual meeting, as those of you who follow me on identi.ca or elsewhere will already know. The proceedings included a speech from Cooperatives-UK Chief Exec Ed Mayo that included the co-op pub in Salford, spurning David Beckham's gift and this summer's Co-operatives Fortnight.
As ever, the bits I liked best were the lively question-and-answer sessions, both on Ed's speech and the annual report. I took notes and reproduce them below, but I didn't capture every question, or every answer and none of this is verbatim. Questions to Ed about UK cooperation included:
Can people in the co-op pub smoke? – No, there's a bit of drinking in meetings, but not smoking. Some heated debates in meetings are defused by a break to go refill the glasses.
Gordon Brown and Labour are starting to talk about cooperatives more. What should we do? – We need to stand on our own two feet, but expect to be treated equally. A "Mutuals Manifesto" will be out online next month. In regulation, having the telecoms networks opened up to co-ops and not be so limited would help. One interesting possibility is with football co-ops / supporters trusts: it's been suggested that a fan co-op should have the right to buy a club if supported by 75% of season ticket holders.
With all the business collapses and Cadburys being bought, what is the temperature of interest in mutuals outside the movement? – Good. The only AAA-rated bank in the world is the Rabobank co-op, but remember that co-ops are not immune to failure. Cadburys is not a co-op and was always vulnerable to the current investor-led rules changing its ownership. People are not necessarily thinking of co-ops, so we need to reach out. It's a cynical, apocalyptic age, so we need to prove what we're doing. coops14 is an opportunity. The co-op bank saw a surge in new accounts after it was highlighted in one newspaper as an alternative to excessive banker bonuses. We need to encourage people to act. Reminded of a quote that "the trouble with the rat race is that even if you win, you're still a rat". Research shows that Britain today is a brutal and competitive place to grow up in, with only 45% of children trusting their friends. People have heard of cooperatives. We should try to build a more cooperative nation.
Comment from the floor that the private sector won't take substantial cooperative competition lightly. We must look behind us and never give them a chance.
Could the BBC become a co-op? – Yes.
Questions about the annual report asked about:
What is our target profit %? – No hard target. This year's reduction was planned and it is still a profit.
Why are we using UKMail instead of the Royal Mail? – £10k price difference. It was a hard choice, debated by the board, but there is no co-op option and no particular preference for state ownership.
Why are we considering energy supply? – Telecoms is a deflationary market, so diversification is a wise move and energy supply is a top customer request.
What is our churn rate? – 1.5%/year, which is unsatisfactory to us, but still low by industry standards.
Was the Avoco acquisition price too high? – a good price by usual industry measurement (multiple of sales)
Will we support coops14 Free and Open Source Software events, because there is an overlap? – (I didn't catch the answer)
Can we put leaflets in the shops? – Matt Lane is working on this and other opportunities
Can we encrypt bills and emails if customers want it? – exec will take and deliberate on that
Can we get some sales materials to Scotland? – details taken to send them out next week